In response to the new EPA regulation, Heatmor® introduces the EPA Certified Unit Model 200X and 350X into their current line of stainless steel outdoor furnaces with an efficiency rating of 58% and higher.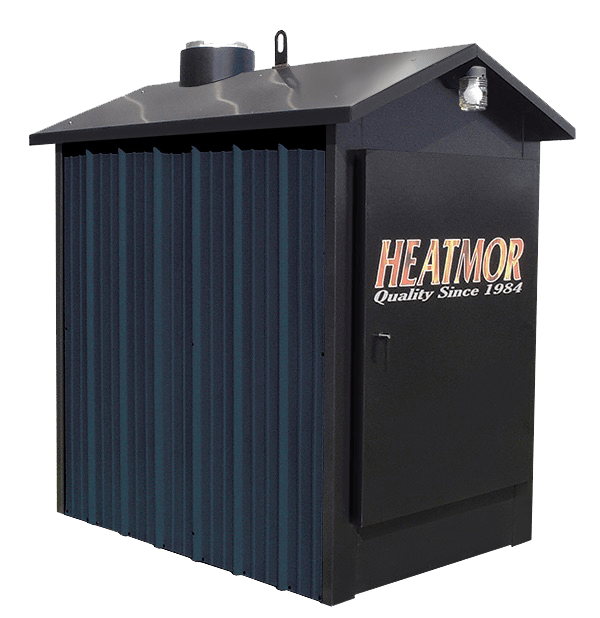 Base Width (Inches)(Footprint)

Base Length (Inches)(Footprint)

Total Weight (lbs., without water)

Water Capacity (U.S. gallons)

Maximum Wood Length (Inches)

Insulated Heating Area (Sq. Ft.)*
1 Loading /day
2 Loading/day

Volume of Firebox (Cu. Ft.)

Firebox Door Size (Inches) (W x H)

Flue Transfer Area (Sq. Ft.)

Base of Unit to Bottom
of Loading Door (Inches)

UL 2523-2009
CSA-B3366.1-11

UL 2523-2009
CSA-B3366.1-11
*This is an estimate only. Actual loadings per day may vary depending on structures heated, type of wood used, and climate.
**This value should only be used as an indication of the furnace's heat recovery ability. Sustained outputs at this rate will increase the loadings per day. Some types of wood may prevent the furnace from reaching this maximum output
HEATMORTM products have been manufactured at our facility in Warroad, Minnesota since 1984.
Our furnaces have a proven track record of excellence that outperform and outlast the competition, which is backed by the most comprehensive LIFETIME warranty on the market.
HEATMOR™ sets the standards for Stainless Steel Outdoor Furnaces
A HEATMOR® Outdoor Furnace is installed outside your home, shop, garage, or business, and plumbed in connecting to the heat exchanger on your existing source. The plumbing can be spliced to service a residence, pole barn, business, shop, garage, as well as your domestic hot water.
Base
409 Stainless Steel
14 Gauge
Firebox Sides
409 Stainless Steel
10 Gauge
Water Jacket
409 Stainless Steel
10 Gauge
Flue
9 Square Tubes
409 Stainless Steel
14 Gauge
Chimney
409 Stainless Steel
10 Gauge
Wall Spacer
Helps air flow for a more efficient burn
Air Box Deflector
409 Stainless Steel
10 Gauge
Force Air Fan
150 CFM
*Dual Fan on 350X Only
Ash Pan
409 Stainless Steel
10 Gauge
Catalytic Converter
*350X Only
Base
409 Stainless Steel
14 Gauge
Firebox Sides
409 Stainless Steel
10 Gauge
Water Jacket
409 Stainless Steel
10 Gauge
Flue
9 Square Tubes
409 Stainless Steel
14 Gauge
Chimney
409 Stainless Steel
10 Gauge
Wall Spacer
Helps air flow for a more efficient burn
Air Box Deflector
409 Stainless Steel
10 Gauge
Force Air Fan
150 CFM
*Dual Fan on 350X Only
Ash Pan
409 Stainless Steel
10 Gauge
Catalytic Converter
*350X Only